DSB takes great pride in giving back to our community through scholarships for customers and their immediate family members! We believe that education is the foundation of our community, and we believe in building a stronger tomorrow through educational opportunities.
Eligibility Guidelines
Someone in the applicant's immediate family must be a customer of Denver Savings Bank (parent, grandparent, brother/sister).
Must be accepted in an accredited college, university or community college.
Must be attending a high school in Bremer or Black Hawk County and have an expected graduation date of spring of the current year.
College students are not eligible for this scholarship.
Scholarship is to be applied toward tuition fees only.
Children of Denver Savings Bank employees are not eligible.
How to Apply
What needs to be included with your application
Copy of your high school transcript (with seal & signature)
Copy of your ACT scores (not required)
Essay – typewritten explaining your professional goals and objectives
Two reference letters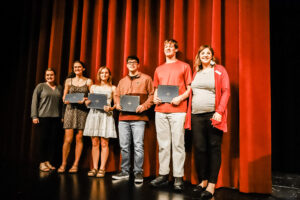 2023 Winners
Grace Hennessey
Klair Heim
Ian Dunleavy
Cade Bonnette
---
For more information about our scholarship program, visit your local DSB branch office or contact us today!